Contest Marketing is a great way to add incentive to actions that help you with your business. Every business has goals, everything from creating more sales to generating leads from filling out a form.
Rewards Fuel helps you add incentive to the events that lead to sales or other goals.
What is important is to know what matters and then we can help you add incentive to that.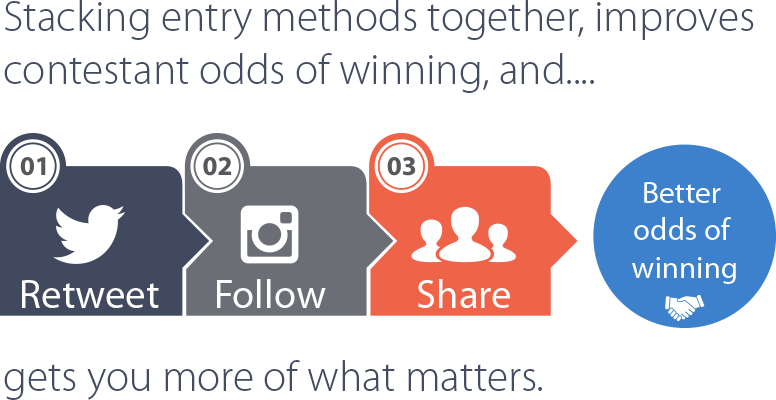 Once you know what matters add fuel to it.  Align your marketing objectives with your entry methods to see results.
Contest app
The Rewards Fuel contest app takes care of the technical side of running a contest. Contests are a great way to add incentive to what matters. We verify your customers perform actions you desire, such as subscribing to your: newsletter, twitter account, YouTube Channel and more. We have over 34 entry methods to choose from. You can pick and choose what matters most to you.
Contest marketing FAQs
What is contest marketing?
Contest marketing is one of the most effective ways to get attention. Radio stations have been using it for years "be caller 9 to win". It's a way to keep the attention of your audience by using a prize as an incentive.
How much marketing should I do before a contest?
Having an audience to launch your contest with is needed. Don't have an audience, don't sweat it, team up. The coolest thing about contest marketing is that its made for collaboration, work with influencers or similar brands to improve your reach and create amazing prizes.
What is the best marketing contest to run?
What are your marketing goals and where is your target audience's attention? For example, if your brand is a visual one like a sunglass company then you would want to have lots of exposure in Pinterest and Instagram. You might want to use a hashtag contest or upload your image contest.
How can you create a contest on your website?
Build a contest with Rewards Fuel and embed it right into your website, similar to a YouTube video.
What is the cost of contest costs for marketing
The costs will consist of: 1) a prize 2) some level of promotion (e.g. sending an email, running a Facebook ad, working with an influencer) 3) If you want to use the advanced features of Rewards Fuel our paid plans to start at $13.95/month
How long should a contest last?
We see lots of contest run between one week and one month, both have good and bad points. If you are running a contest over a longer period of time you might want to consider having smaller daily or weekly winners to keep the hype up