Running a contest on social media can be a fun and an interactive way to strengthen relationships with current and potential customers while growing a new Twitter following. Twitter Contests and Giveaways come in different forms and can be executed from any social platform.
Regardless of how your twitter contests and giveaways are designed, it is important to make entry simple. When all that is required to enter your contest is to follow a
Twitter profile or hit the Retweet button, people are much more likely to get involved.
Have a Great Prize
One of the first things you want to do is decide on a great prize for people to win. This can be a product or a service and, the bigger the prize value, the bigger the interest. It might be worth spending some money on a really eye-catching prize. Don't limit yourself. Use your imagination and creativity to offer a win that's invaluable, like an autograph or an exclusive one-time meetup.
Develop a thought-provoking message
Once you've decided what you are giving away, next you need your to select your entry tweet. Use a current tweet or let our software create one for you to go live with your contest launch or schedule at a later time. Include "RT to Win" or "Follow us & RT to Win" to let people know how simple it is to enter.
What a Twitter contest looks like
Creating Twitter contests can utilize 3 types of entry methods: Follow on Twitter, Reply to a Tweet, Retweet to enter.  Creation of these methods is easy: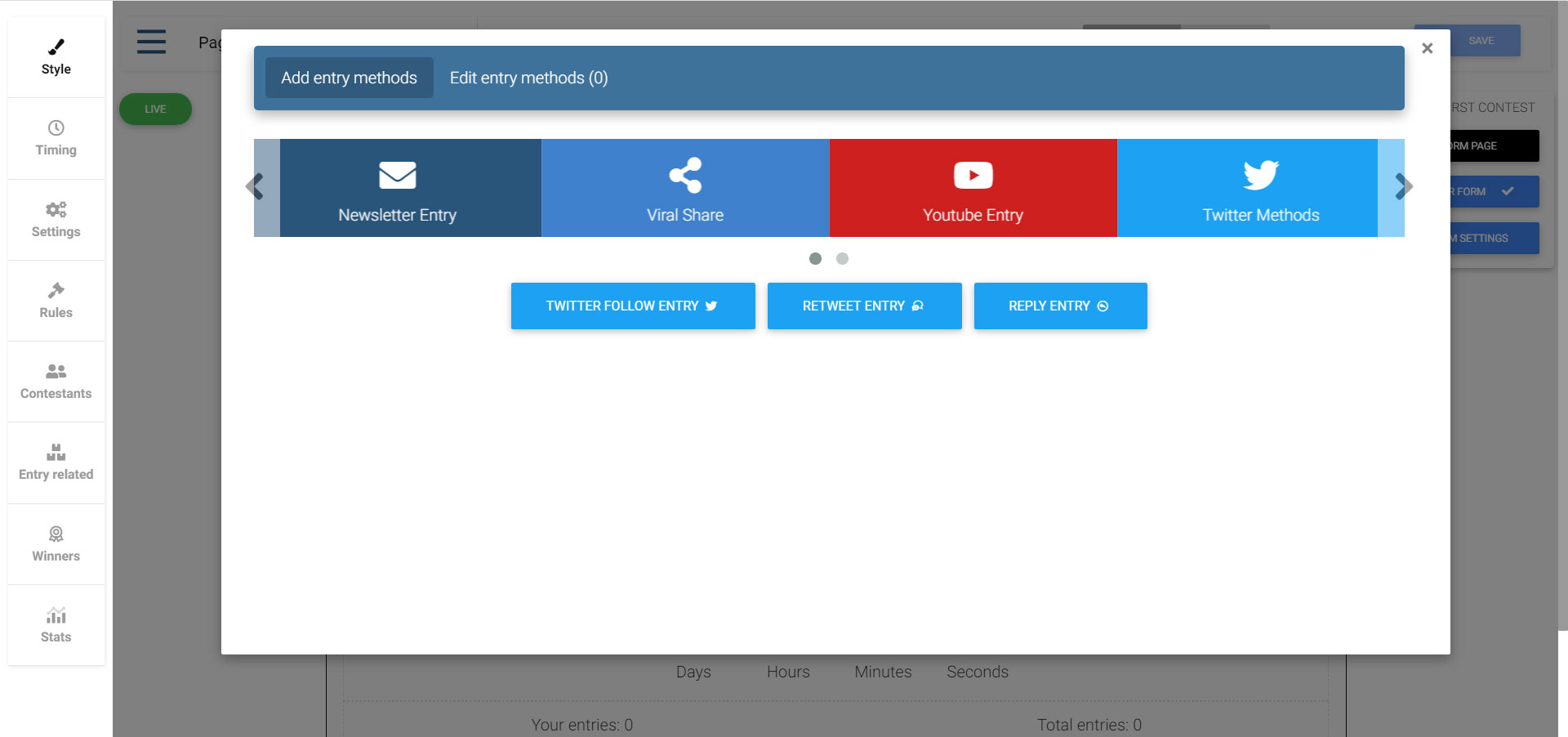 Follow on Twitter entry creation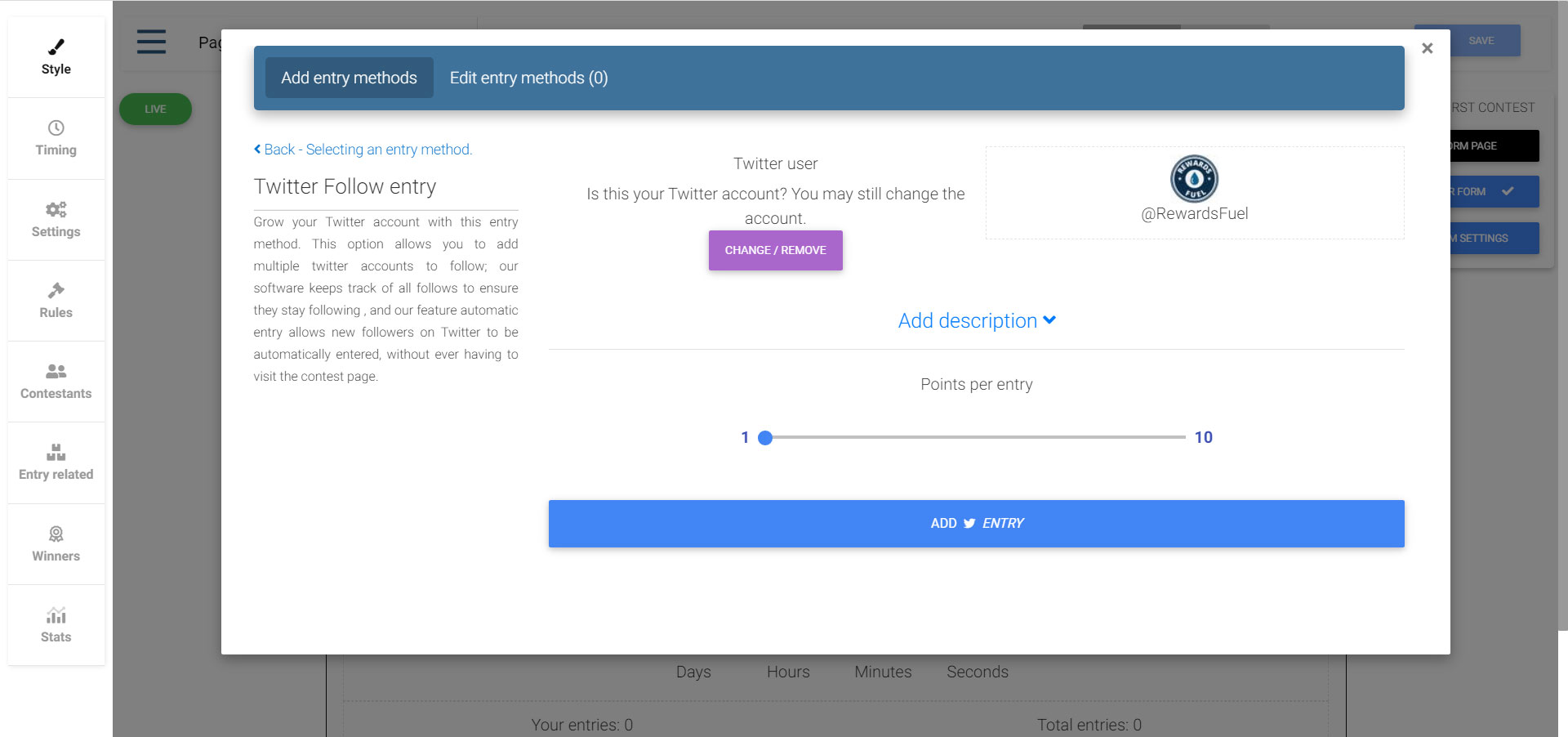 Select a Tweet for Reply Tweet entry or Retweet entry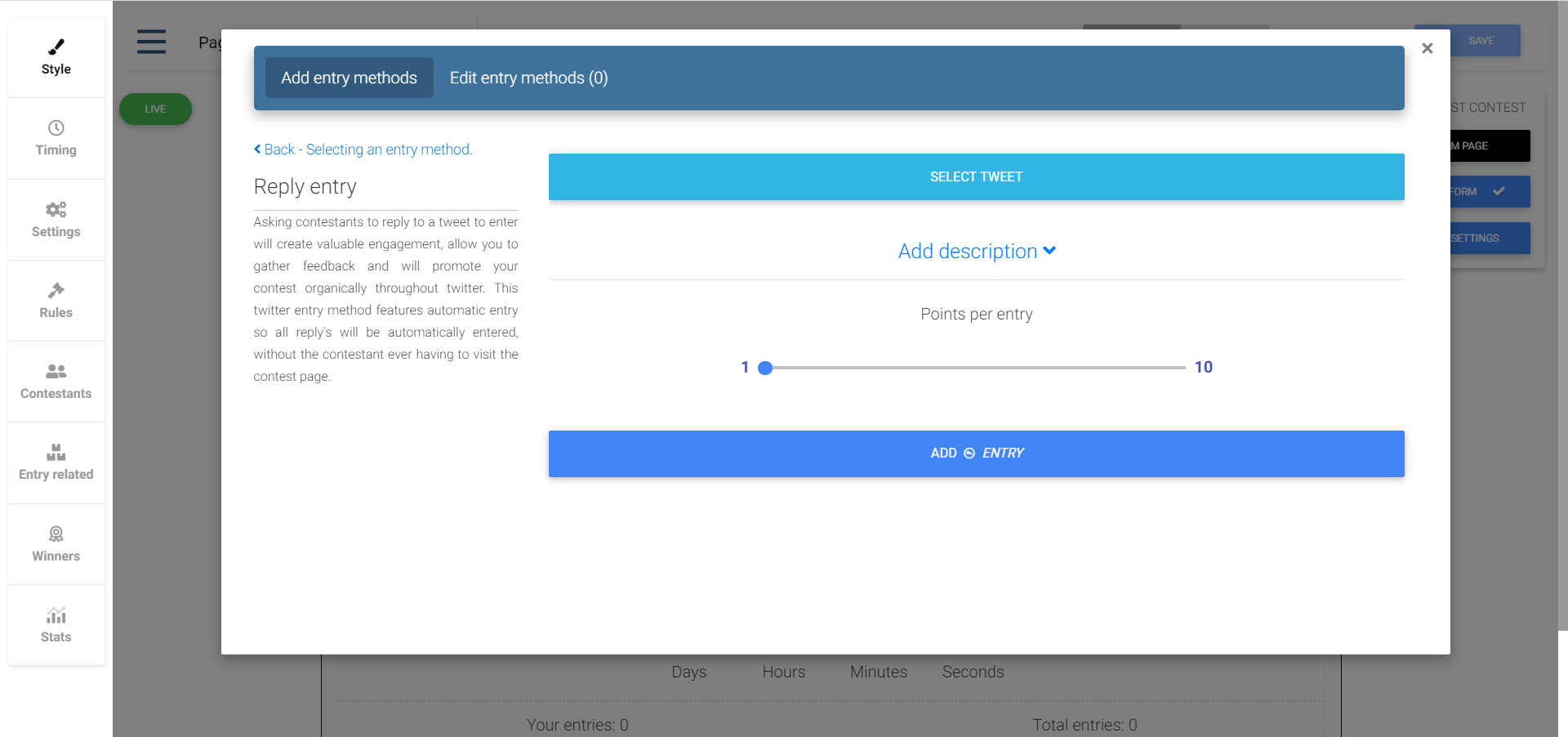 Select the tweet you want to use in your Twitter contest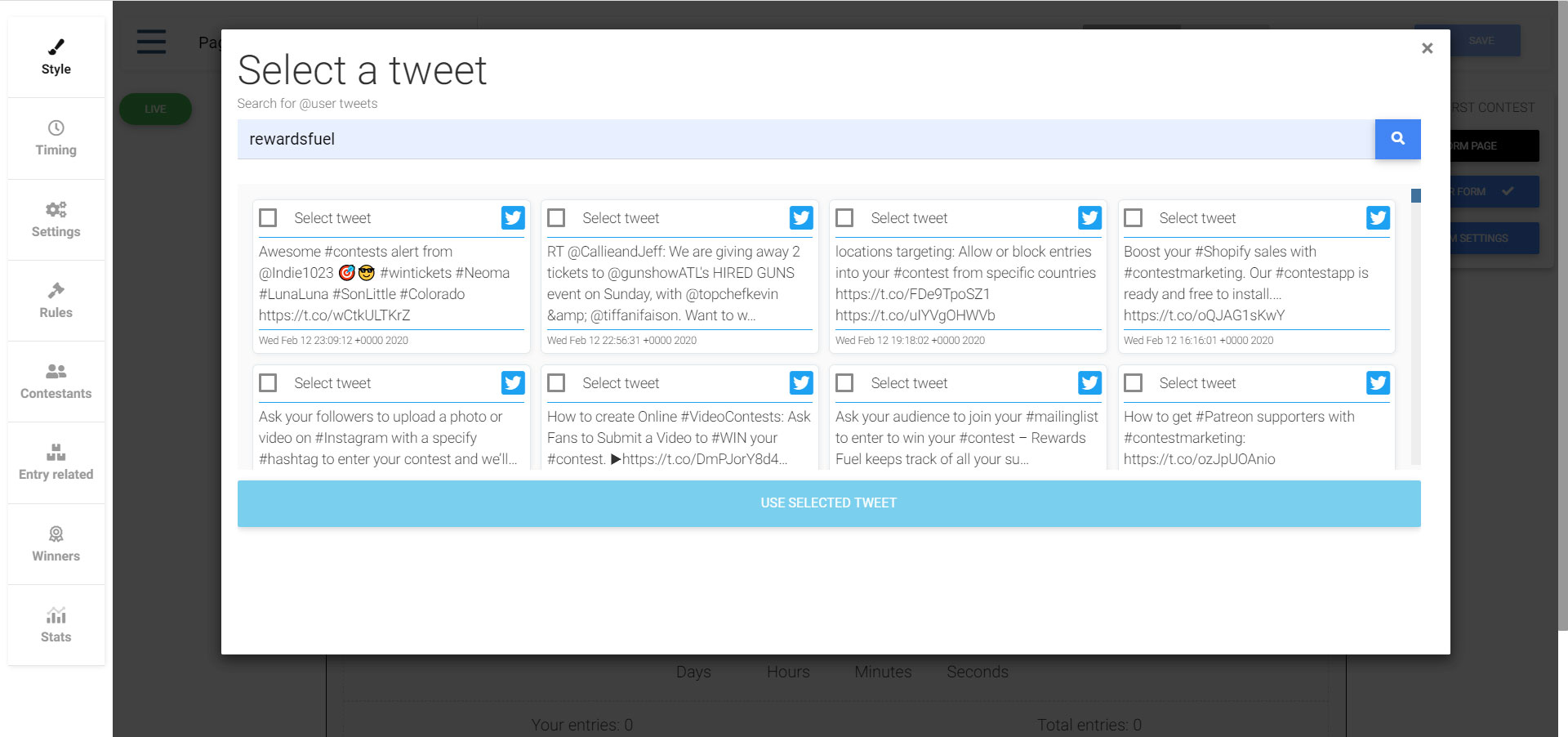 Promoting your Twitter Contests and Giveaways 
There are a number of ways to create awareness about your contest. They include:
Promote a tweet on Twitter with "Retweet to Win"
Promote the contest by designing a quality custom header for your Twitter profile
Create and distribute a press release
Inform your email list
Share the contest on your social media accounts (all of them)
Create a blog post
Add details of the contest to your Twitter bio
Increase participation by using our Automatic entry feature
Schedule several tweets during your contest
Monitor Your Contest
What good is a contest without knowing the impact it has had? We integrated our system to work directly with Google Analytics so that we can provide you with real-time information about your giveaway. Who is taking these actions and what does my audience look like? What value am I receiving from running this giveaway? Your contest results are fully trackable with our Statistics dashboard.
Reveal the Winner
Once the contest ends, you'll need to pick a lucky winner.
You can manually select and announce your winner, or use our contest automation tool, and we'll select a winner and tweet for you (asking them to contact you because they won). Remember to thank everyone for following and participating.
We are happy to help out with any questions you may have about this type of contest. Leave your questions in the comment section below!
Twitter Contest FAQs
How are entries counted?
We use Twitter's API to verify entry methods. Everyone who enters your contest using
one of our three Twitter entry methods is verified to have followed, retweeted or replied to a tweet.
How do you run a successful twitter contest?
Promotion of your contest is important, using a few different entry methods together
such as viral share entry is a good idea. Colaborating with other brands or influencers helps a lot too.
What are the rules for running a Twitter contest?
Take a look at Twitter's contest
guidelines to ensure that you are keeping within their Terms of Service as well. You can choose to
either make it available on your Twitter bio or on your website. Setting this up doesn't have to be
intimidating: there are templates online to guide you. Or, you can consult a promotional lawyer. We have
added a Rules Generator to get you started.
Get inspired and check out these great contest marketing examples and case studies–> Success
stories
Questions, comments or suggestions about our social media contest platform? Shoot us an email at
info@RewardsFuel.com or get started on a contest today by signing up–> here or
downloading our plugin–> here.