Rewards Fuel is a Facebook contest app used by thousands of companies to achieve better results with their contest marketing. By creating a Facebook contest, you'll add incentive for your fans to like your page by offering them a chance to win a prize.
How to set-up a Facebook contest
Login: Visit www.RewardsFuel.com  and choose 'create a contest'.  Don't have an account yet? Sign-up and choose one of our contest packages.
Add your entry methods: We have over 30 entry methods to choose from, choose 'Facebook Like entry' and fill in the URL of your Facebook page e.g. https://facebook.com/RewardsFuel
Click verify page
Next add entry points:  The more points you add to the entry method the more of a priority you're placing on the entry method.
How it looks when building your contest with our app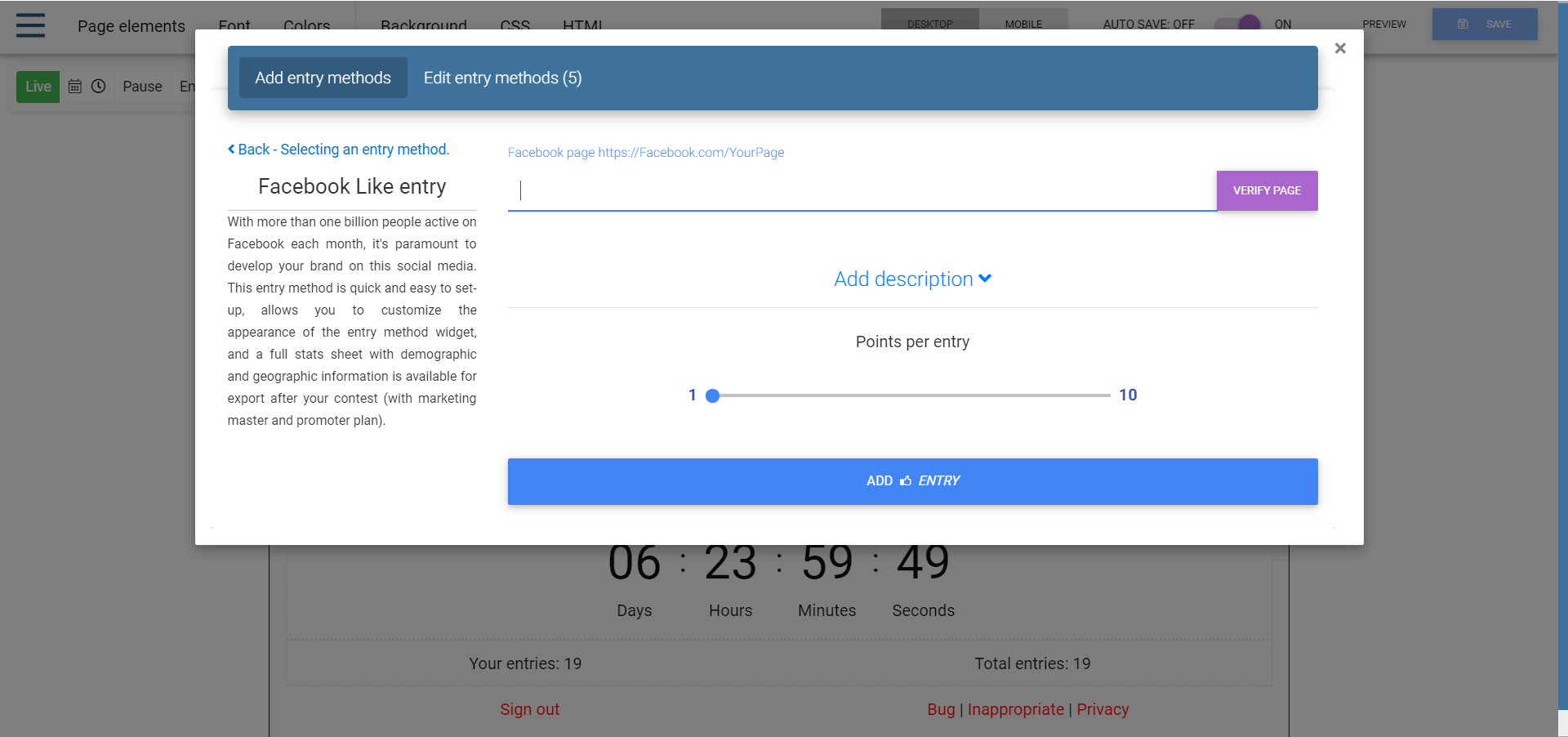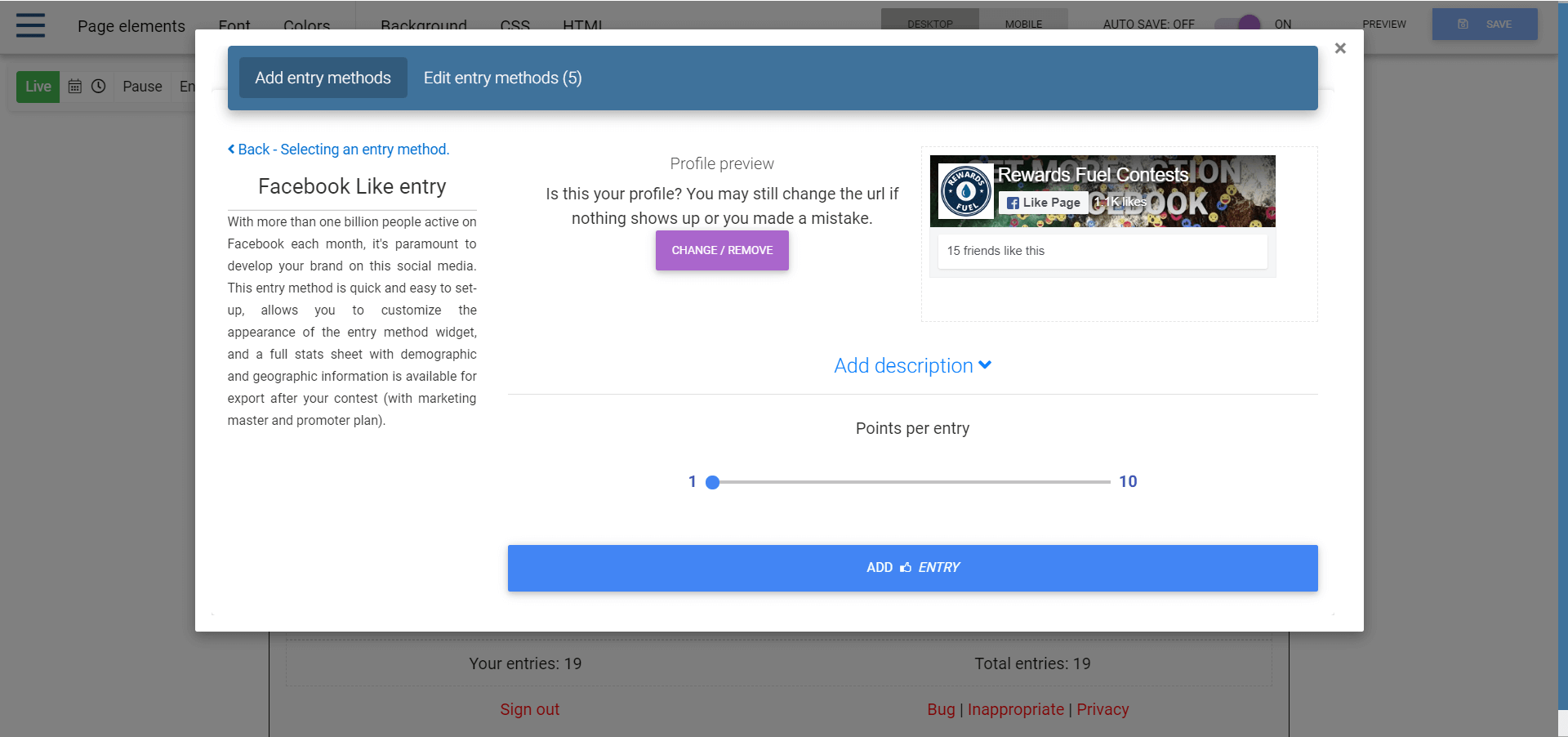 What a Facebook contest looks like for your contestants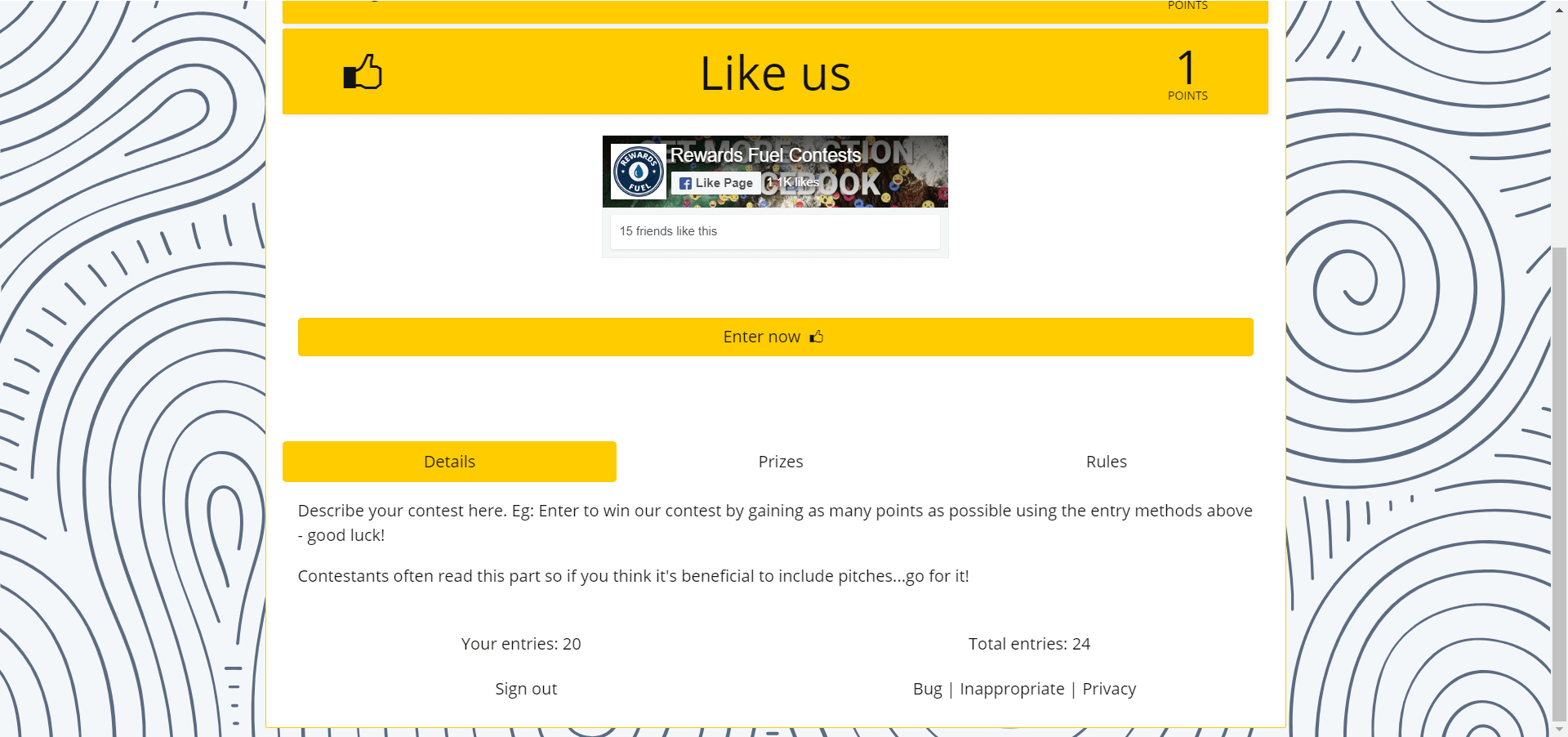 Demo: Style your Facebook contest with our app.
Contests are totally customizable, check out our demo below. Our new style editor allows you to customize the look of your contest, add or remove elements, change colors fonts and more.
Contest software - Reward Fuel
Facebook Like entry FAQs
Why add Facebook Like Contest as an entry method?
Facebook is still the most visited social media site in the world with over 70 million active users per month so it's pretty obvious that growing your presence on the platform is essential. Plus its included in all of our plans including the free plan, and it works. Check out a recent case study where one Rewards Fuel contest holder gathered thousands of new Facebook page likes with just one giveaway.
Are entries verified?
We try to verify every entry method, but as of November 2014, Facebook no longer allows anyone to force the liking of a page as incentive for downloads or entry into a contest so we thought it would be beneficial to offer a contest entry method that suggests they like your page and encourages contestants to click through to your Facebook page to check it out. So although we can verify that someone has visited your Facebook page, we cannot verify that they have liked your page.
Is Facebook like Contest easy to setup?
Absolutely. Just add your Facebook page URL e.g. Facebook.com/RewardsFuel, choose the number of points for entry and you're ready to go.
Questions, comments or suggestions? Please send us an email at info@RewardsFuel.com.