Want more likes on your Facebook Page?
Check out this latest contest which generated thousands of Facebook likes with one contest!
Thousand Hills Golf Resort teamed up with some partners to give away a fantastic prize package valued at $1000.
Their goal was to increase likes on their Facebook pages and to gather a few extra sign-ups on the Branson newsletter.  Considering the population of Branson is approximately 11,064 and the contest was location dependent – we can call this contest a smashing success!
RESULTS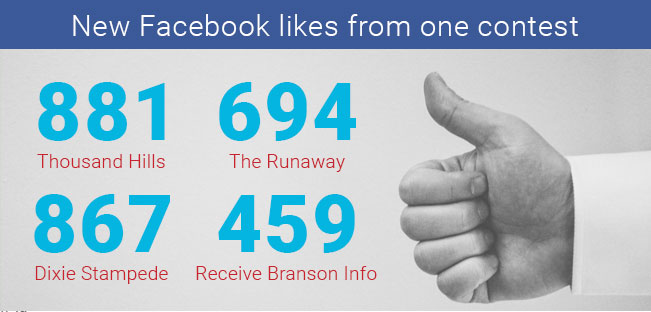 STATISTICS:
Contest Views : 6,354
Entries: 1,234
Desktop Views: 1958
Tablet Views: 465
Mobile Views: 3931
DEMOGRAPHICS:
We spoke to Neil Sawford of Thousand Hills Golf Resort:
"Our basic strategy was that we would team up with area businesses to put together a large prize package, with the idea of people liking & sharing our post to get entered. We promoted it on our social media, through email blasts & our WordPress based website, and our partners did the same."
Contest TIPS:
Want to gain thousands of Facebook Likes with one contest? Try a demo contest and sign-up for free right here–> FACEBOOK Like Contests.
Questions, comments, or requests for collaborations? Send us an email to info@rewardsfuel.com – we love hearing from you.