Social media has become a major resource for every stage of event promotion and it maintains its reputation as the strongest platform for Event Marketing with Social Engagement.
If you take a peek at your friends' social timelines, odds are you'll see they plan to attend an event or have posted a selfie or two of them attending an event. And, if you follow your favorite musician or performer on Facebook, Instagram or Twitter, you're likely to have seen event images and tweets while on tour.
400 million people around the world create events using Facebook and nearly 30% of all the events people connect to are concerts, community events and special nights at bars and restaurants – all created by Facebook Pages.

*Stats from Ticketmaster's website, we have no affiliation with Ticketmaster.
Is this you?
You're a business with event promotion in your marketing mix, or you're hosting an upcoming conference or webinar, or, perhaps, you're celebrating customers with an in-store networking event.
Whatever the case, you or your team are likely sending out Facebook event invites with some success, but your followers may be getting overwhelmed with multiple invites and possibly declining more than you like. You've also sent out Tweets about your event and posted an Instagram image, but no one has responded.
A creative way to increase attendance and connect with your audience is to offer something exclusive to your biggest fans and host a Giveaway promotion. People love the possibility of winning something. Who wouldn't love winning 2 tickets to see their favourite band? Or a $20 item at your store?
 The strongest event marketing with social engagement
According to a report from FreemanXP and the Event Marketing Institute, 70% consider social engagement and other viral efforts important to an event's overall success.
Event marketing with social engagement is mainly used before events and experiences to increase awareness, drive attendance and provide general information. With Facebook at 37% and Twitter at 36% of the event promotion pie, these are considered to be the two most effective social media channels for their communication and viral efforts.
Pre-event promotion
With Facebook being the top choice for pre-event promotion (using the RSVP for an Event on Facebook) and getting your fans to spread the word for you, this event marketing with social engagement is ideal.
Asking people to simply invite friends to your event is a great way to start. It's a simple button for people to click, and immediately your community and exposure grows.
This allows your fans to become your advocates and you can reward those who work the hardest. Appeal to your fans with ticket giveaways, meet and greets, exclusive content, album releases or even add multiple prizes to appeal to a wider interest. Adding Sponsored prizes can also further your reach to a new audience.
#ProTip: Combine entry methods and reach out to your target audience through multiple channels on other popular social platforms such Instagram, or Twitter and set up a Retweet entry announcing your Giveaway and/or the RSVP entry on Facebook.
Promotion during an event
As far as in-event marketing goes, FreemanXP notes that the most valued means of social media usage include the live posting and sharing of photos and other content during a live event.
If you have used the Suggested Facebook Page Like, or any Follow to Win Entry for Instagram, or Twitter, this is a good time to possibly find those attending and posting live media about your event or giveaway on their Social Media accounts.
Don't forget to create a Hashtag for your event to track engagement and stimulate discussion.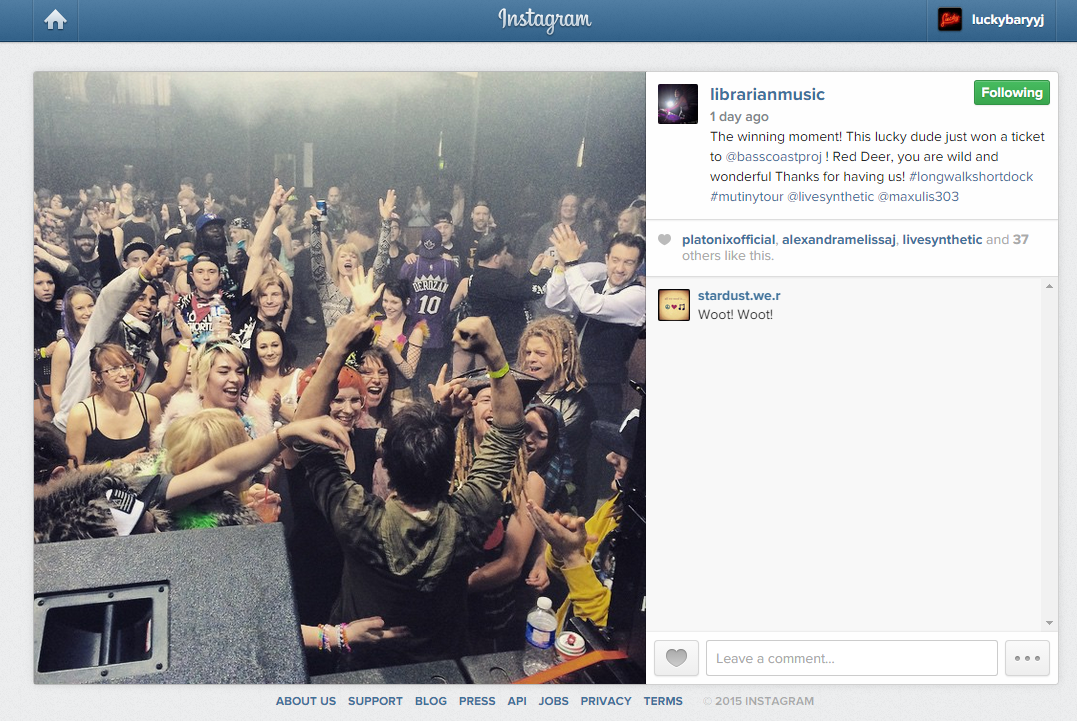 Utilizing post-event promotion
Post-event conversations can prompt even more social media chatter long after the event is over.
This is a great time to utilize some of the great event social media generated by your audience and to keep the conversation active by curating content.
Continue the dialogue about the event on your company blog, Twitter or other social media sites. Encourage attendees to get involved by asking them to leave reviews on your online event calendar, post pictures from the event or ask them for theirs. If possible, feature a winner of a prize; or their VIP Meet and Greet experience.
#ProTip: If you have used the Newsletter Entry, you'll be able to thank those who showed interest in your event giveaway and/or target your new list for your next newsletter campaign.