Congrats to Best Slope Designs  Floyd's of Leadville and Snek Cycling for goal crushing their latest Rewards Fuel contest! By collaborating to create a great prize and by working together to promote their contest they gained some impressive numbers and some valuable contestant statistics.
Combined Floyd's of Leadville and Snek Cycling  grew their following online:
Newsletter subscribers: 942
Instagram followers: 1051
Facebook likes: 797
YouTube Views: 1666
We talked to David Mason from Best Slopes Designs who created and moderated the contest.
"Floyd's and Snek partnered up for the campaign to utilize their fan bases and existing lists to further expand their subscribers and presence. We promoted the contest via a 3 week Facebook ad campaign and our email lists through an announcement."
Additionally the team:
Created a great prize: By teaming up they were able to create not one but two great prize packages including a variety of brand products and a combined value near $1000.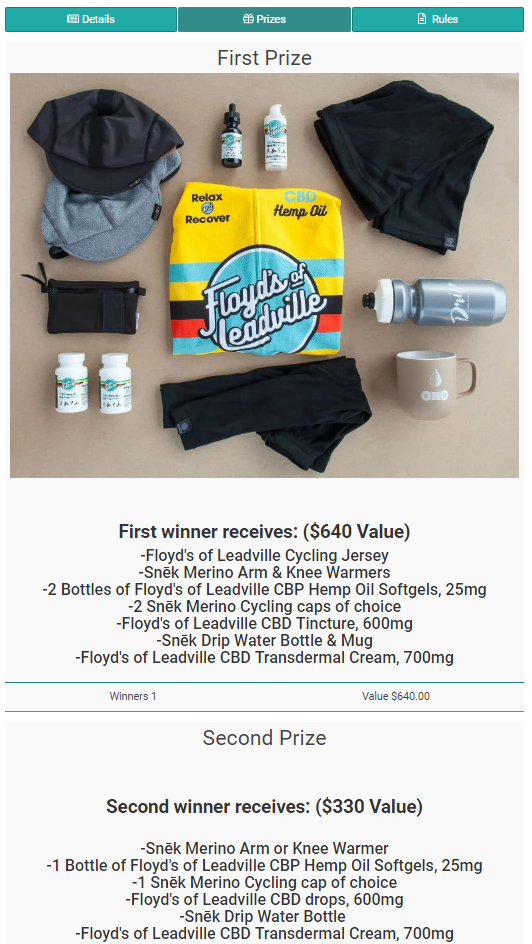 Used points: When choosing their entry methods the team awarded the most amount of points to the marketing platforms where they wanted to see the most gains (Instagram follow, newsletter sign-up and visit their websites). Contestants are then motivated to enter multiple times to increase their chances of wining by gaining more points into the contest.
Share Entry:  They added share entry (they've called it 'refer a friend') which is a great way to organically promote a contest. When  contestants choose this entry method, they'll share a custom tracking link that's easily distributed via email or social networks (Twitter, Facebook, Google+) allowing Rewards Fuel  to track any new contestants that enter a contest. When a new entry is confirmed from this tracking link,  the person who shared the link will receive entry point(s) into your contest improving their odds of winning.
Visit Entry:  This entry method (re-named as 'view Sneks cycling products' and 'View Floyd's CBD products') awards points to contestants for visiting a website, boosting traffic, awareness and increasing conversions.
The team now have in-depth statistics of their contestants so they can better re-target in future marketing campaigns and contests. Statistics  are including in the Promoter and Promoter Pro packages and include:
Age
Gender,
Location
Device used
Traffic sources
Klout scores (and the opportunity to connect with influencers on future campaigns).
Plus at any time during a contest there is the option to print, or email professional PDF reports of the statistics
We were pretty thrilled to see the results of this contest!  David from Best Slopes Designs wrote more on his experience using Rewards Fuel on our WordPress plugin page. Read more —> HERE
Questions,  comments, suggestions or looking to collaborate on a contest? Shoot us an email at [email protected] or get started on a contest today by signing up–> here or downloading our plugin–> here.
Cheers,
RF