Congrats to our friends at EnterTalk Radio, Mission Engineering and Pitbull Audio for running a fantastic contest with our social media contest platform! The team gained over 9000 new leads on various marketing channels with their contest. 👌😁🎯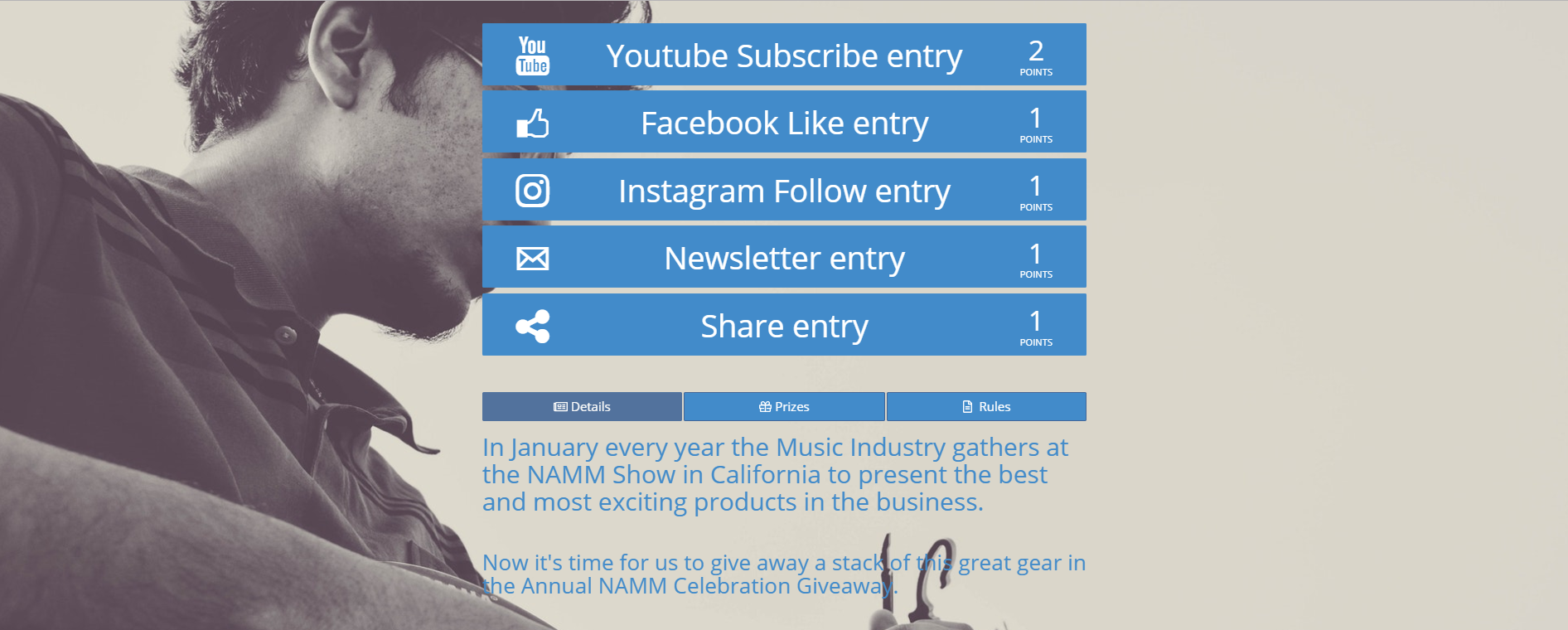 Contest results
Instagram followers: 2,184
Newsletter subscribers: 2,264
YouTube subscribers: 2,024
Facebook likes: 2,878
How they did it:
 They connected to an event: By launching a contest in conjunction with the annual Namm conference. The team immediately had a connection to thousands of attendees at the event. They also took advantage of the event #hashtag when posting about their contest, therefore, promoting their giveaway. (TIP: Want to run a contest on-site at an event as well as on your website? Easily add offline entries to your online contest )
Collaboration: Not only did the three companies work together to promote the contest, but the team reached out to numerous suppliers in their industry to create an amazing prize. They included over 20 industry names and numerous prize packages worth thousands of dollars. They gained tons of buzz for the contest.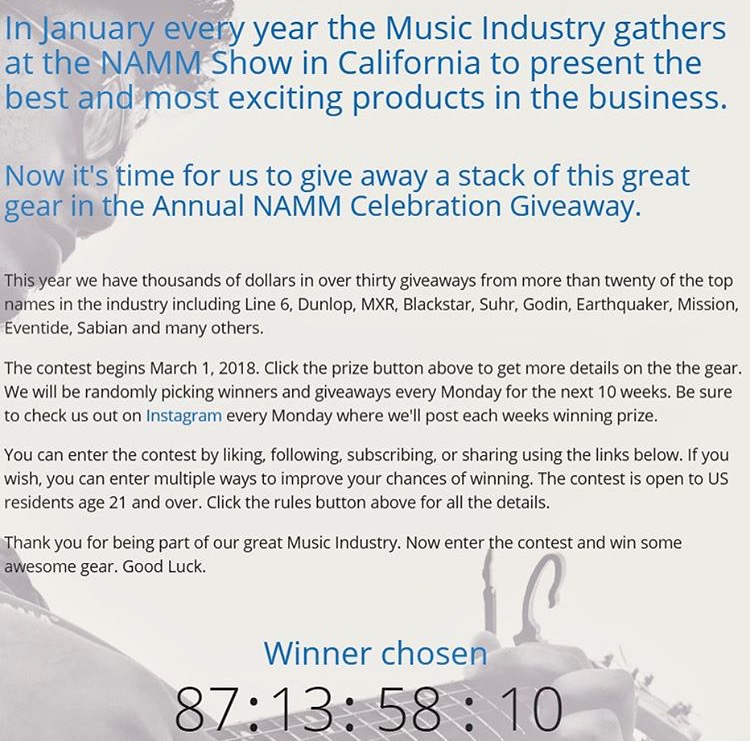 Multiple winners:  The team chose to give away multiple prizes to multiple winners which is a great strategy to building momentum, excitement and awareness. Our multiple winners tool allows you to automate winner picking and notifications.
Points: When choosing entry methods the contest holders awarded the most amount of points (see top graphic) to the marketing channel they wanted to see the most gains. Contestants are then motivated to enter multiple times to increase their chances of winning by gaining more points into the contest.
Share Entry: Be sure to add this powerful entry method into your contest! When contestants choose this entry method, they'll share a custom tracking link that's easily distributed via email or social networks. This allows Rewards Fuel to track any new contestants that enter your contest. When a new entry is confirmed from this tracking link,  the person who shared the link will receive entry point(s) into your contest improving their odds of winning.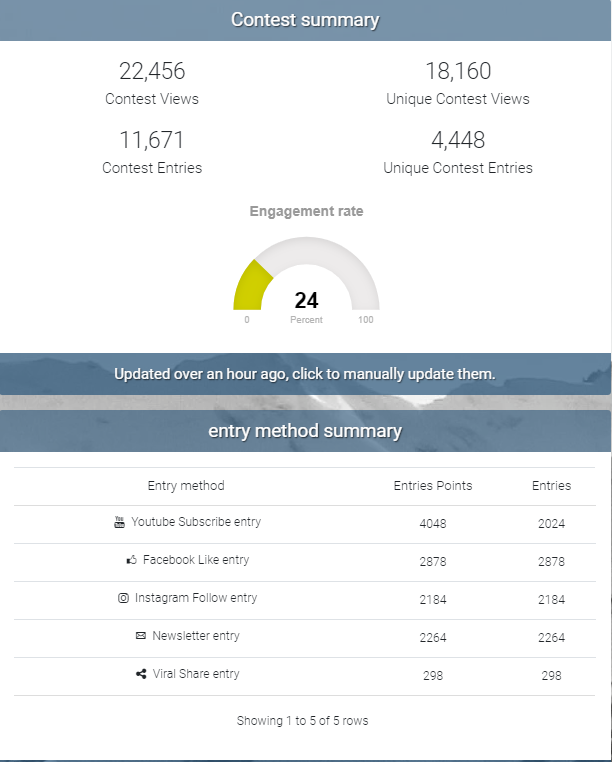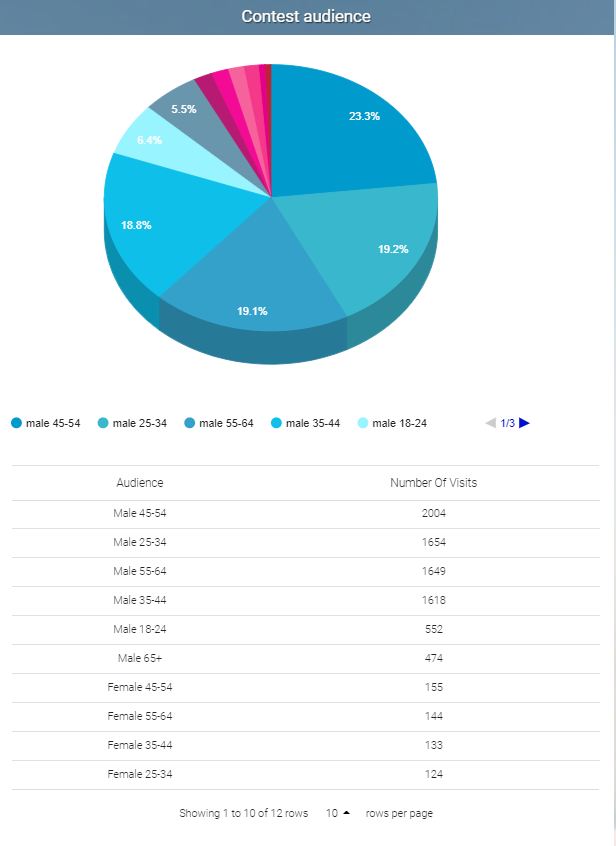 The team now have in-depth statistics of their contestants so they can better re-target with future marketing campaigns and contests. Statistics are included in the Promoter and Promoter Pro packages and include:
Age
Gender
Location
Device used
Traffic sources
Plus at any time during a contest there is the option to print or email professional PDF reports of the statistics.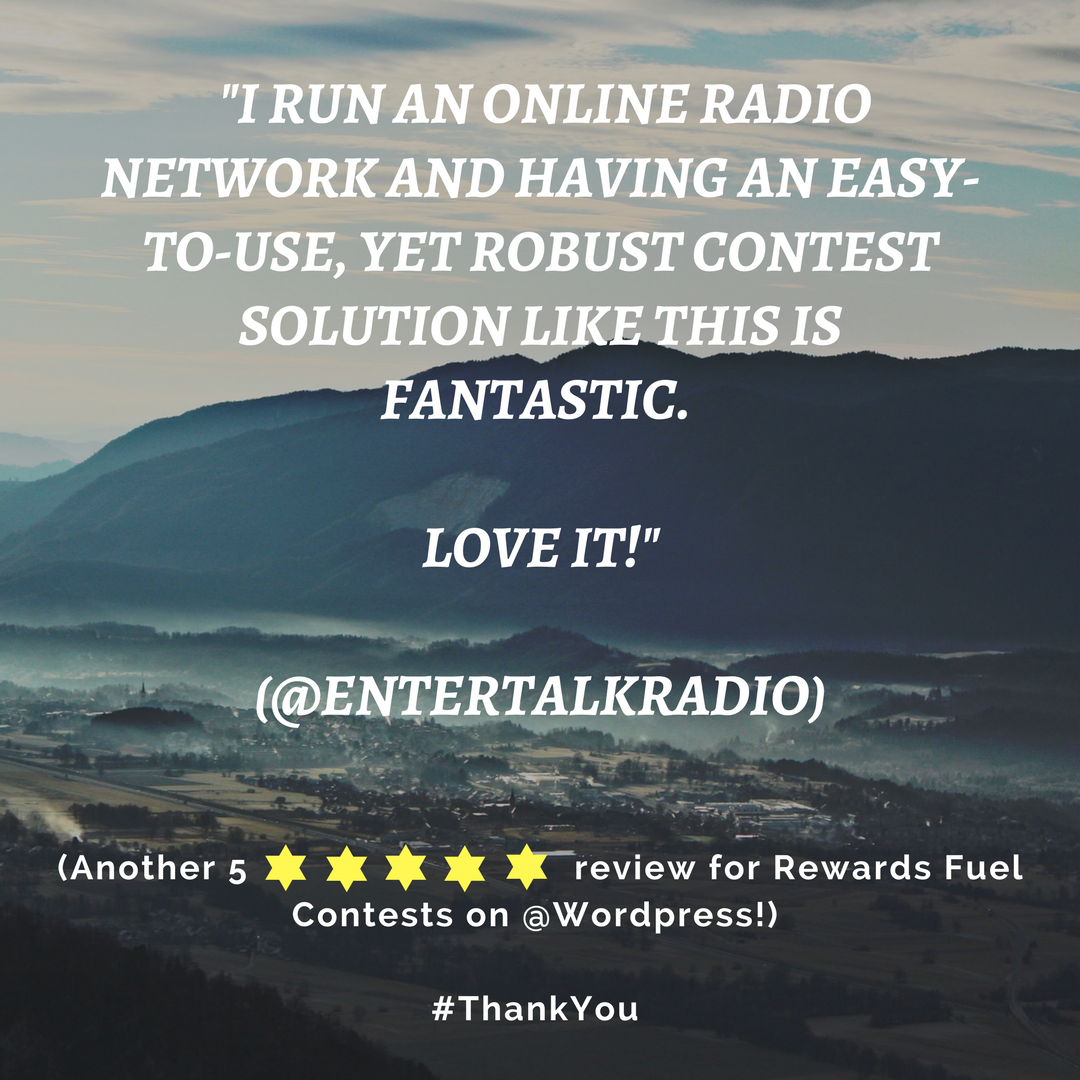 We spoke to James from Mission Engineering about their marketing strategy:
"Our market strategy for this contest was to partner with other organizations to expand our reach. Companies could take part in the contest as a major sponsor, or just contribute something to the Giveaway. This allowed us both to increase the value of the prize and reach many more people, as the other contributors promoted the contest to their own followers and mailing lists.

The Rewards Fuel reporting feature was very important for this. It allowed us to send out regular updates to contributors to track the progress of the contest and encourage them to continue promoting it. At the conclusion of the contest, we used the statistics and reporting feature to send out a pdf of the results to all the stakeholders so they were able to see tangible results in return for their contributions."
Paul from EnterTalk Radio wrote more about his experience using our social media contest platform on WordPress.
Read more —> HERE. 
Questions,  comments or suggestions about our social media contest platform?  Shoot us an email at info@RewardsFuel.com or get started on a contest today by signing up–> here or downloading our plugin–> here.