Why contests work on Twitter
Running a Twitter contest is a great way to add incentive to engagement actions on Twitter such as getting more followers, Retweets and replies. Running your Twitter contest with Rewards Fuel will give you a leg up because we provide you with rules and a contest winner picker.
How to run a Twitter contest
Log in to your Rewards Fuel account – if you don't have one yet, sign-up and choose our Promoter Pro Package.
Next, you'll begin creating your contest, you'll be asked to name your contest, choose a start and end date, create a prize etc.

Choose the Twitter entry methods that match your marketing goals.

This is an example of what it looks like to add Follow on Twitter entry


Add more entry methods: You have over 30 different entry methods to choose from, we also suggest adding 'viral share entry' which will help to organically promote your contest.
What it will look like for your contestants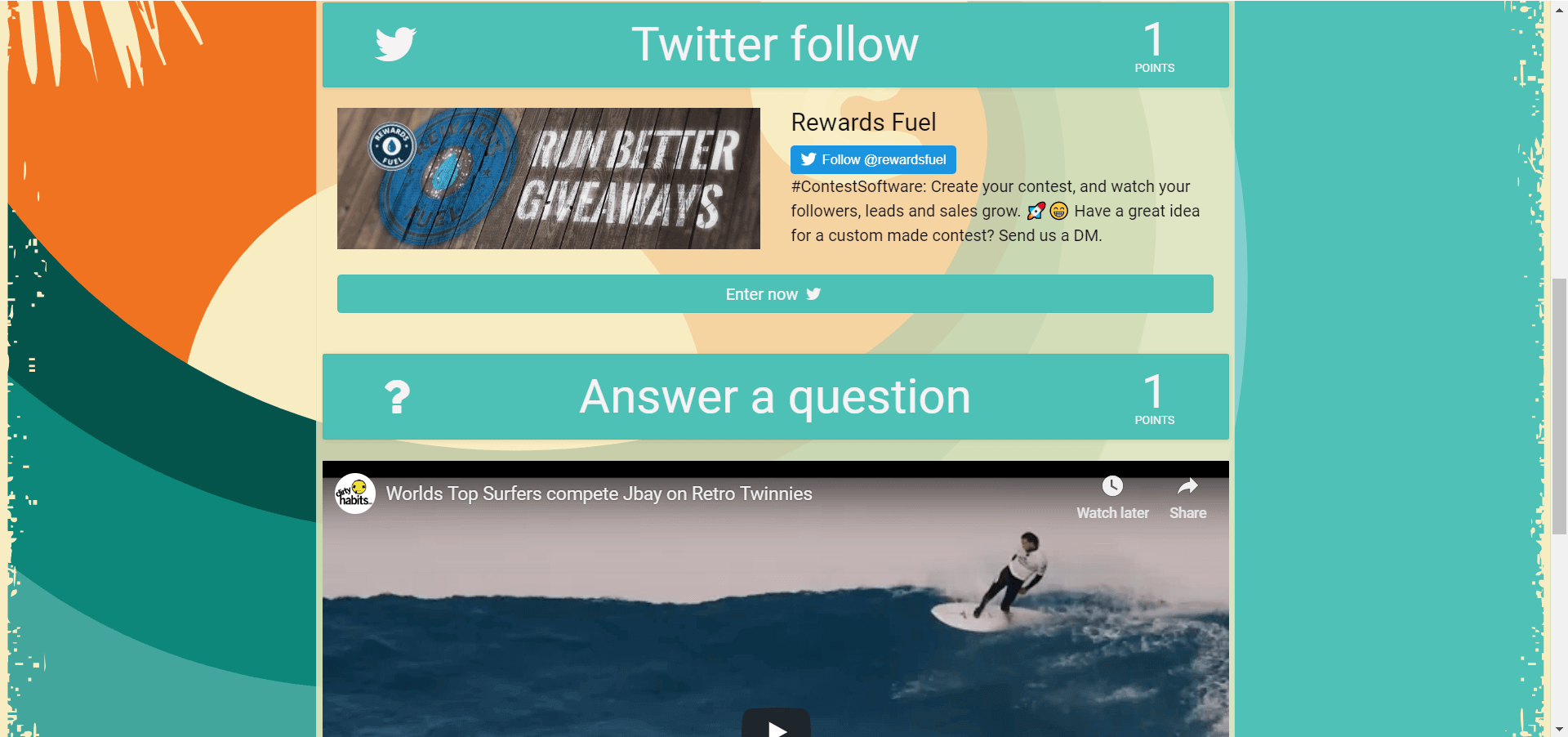 Try our demo contest
Contests are totally customizable with the ability to add or remove elements and to easily change colors or fonts.
Rewards Fuel social media contests
Follow on Twitter entry FAQs
How does this get me more Twitter followers?
When you run a Rewards Fuel contest you can offer several methods for your audience to enter the contest. One way to enter will be follow on Twitter entry. Contestants can earn entries when they follow your Twitter account.
How are entries counted?
When you contestant clicks on enter we authenticate them with Twitter and follow your account. After they follow they get entry points.
Is this entry method verified?
Yes, we use Twitter's API to verify the entries.
Can I have people follow multiple Twitter accounts?
Yes, just add one entry method per account you want to follow.
Do you have other Twitter entry methods
We have thee Twitter related entry methods: Follow on Twitter, Retweet entry, and Reply Tweet entry.