So you've created an account on Patreon – now what? You're not going to survive with a few patrons donating five dollars a month.  You need to promote yourself, which is why we've created this quick guide that will show you how to boost Patreon supporters with contest marketing.
First off, know that you can excel on Patreon.
Top creators like Chapo Trapo House and Dark Cookie are both making over 60,000 dollars a month.  You can get there, you just need a little momentum, great content and of course a killer marketing strategy.
Chapo Trap House and Dark Cookie both have massive audiences and followers on other marketing channels, which is essential for creating the super fans that will eventually become your biggest supporters on Patreon. It gives your audience a chance to engage with you and to preview your content before they decide to become  a regular contributor.
This is where contest marketing comes in. Throwing a monthly contest will accelerate your fan growth on these additional platforms such as your newsletter, Instagram, SnapChat, Twitter, YouTube, and more.  In fact EnterTalk Radio, Mission Engineering and Pitbull Audio gained over 9000 new followers, subscribers and likes on their recent contest.
So let's get started Boosting Patreon supporters with Contest Marketing
Step 1- Create an awesome prize: Now considering new patrons will be awarded your content just for supporting you on the platform,  you'll want to go above and beyond what you offer on Patreon. Try collaborating with other creators or brands (great sponsorship opportunity btw!?) to award them something special. And don't worry about shipping – our digital prize tool allows you to easily award gift cards, audio, videos etc or anything that is uploadable.
Step 2- Choose your marketing channels: We call them entry methods and you have over 30 different options here, but choose the ones your fans are most likely to find you on. Some of the most popular for creators include YouTube, Instagram, Facebook, Newsletter, Podcast, Spotify, Soundcloud, Mixcloud etc. Try a few out by clicking the demo contest below.
Step 3- Create your contest: First you'll need to log in to your Rewards Fuel account, or sign up if you don't have an account yet. Next follow the steps in the short video tutorial below.
contest
Your Contest Features Include:

Style: We offer the most customizable contests, so feel free to get creative and change the way your contest looks by modifying fonts, colors, background images, countdown clocks, videos, HTML, CSS and more.
Digital Prizes: That means no shipping costs and no hassle, this feature allows you to run contests giving away tickets, software, videos, audio links, photos, gift cards and anything else that is uploadable.
Contest Reports: Export your contest statistics at any time to a professional PDF
Export newsletter entries automatically to your email lists.
Plan needed for Support on Patreon
Promoter Pro
All plans can be upgraded or downgraded at any time. One paid plan may be used on multiple websites. Create as many contests as you like, pick as many winners as you like.
Questions, comments, suggestions about getting more Patreon supporters? Please let us know in the comments below, or by email at [email protected].
Get more Patreon supporters > Create a contest now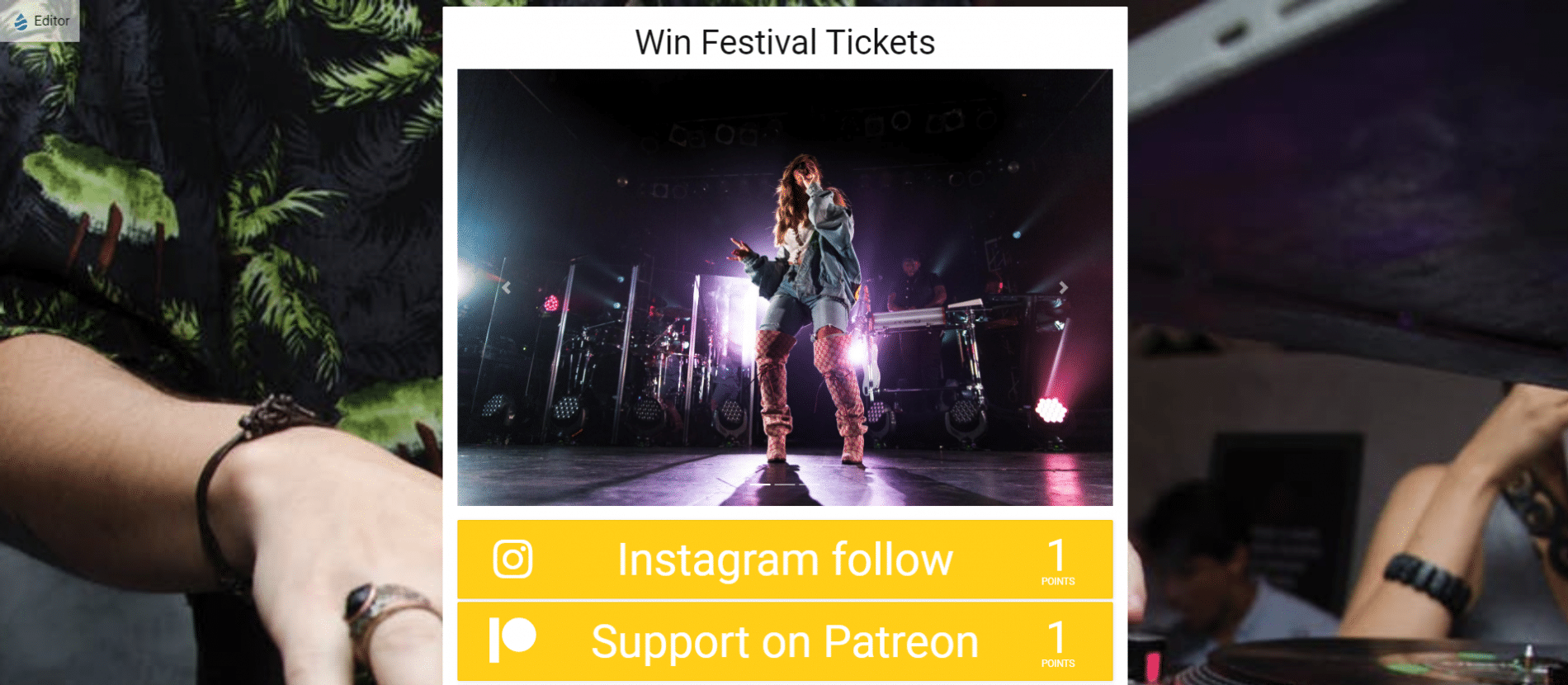 Patreon supporters FAQs
How does this help me get more Patreon Supporters?
Using Support on Patreon as an entry method in your contest adds incentive for people to visit your Patreon page and to support you.
Can I embed a Patreon supporter contest into my website?
Yes, you may use our hosted contest URL or embed the contest right into your website including [WordPress, Shopify, any website where you can add HTML]
Can my contest have several winners?
Yes, you can have multiple winners over multiple days if you choose.  You may also offer them digital prizes e.g. gift cards or secret codes.