Want more subscribers on your YouTube channel? Of course, you do, that's why you started the channel. That's why we've created this guide showing you how to get YouTube subscribers with YouTube contests.
Contests can now be a part of your video marketing mix with our 'Subscribe on YouTube' contest entry method.
"Simply ask your followers to enter your contest by asking them to subscribe to your YouTube channel – Rewards Fuel will keep track of all your entries for you."


Creating a contest with Subscribe entry is easy, just copy and paste your youtube channel url
How to create YouTube contests in 5 simple steps
Sign up for Rewards Fuel, choose a membership and get started creating your contest
Add 'YouTube subscribe' entry as one of your chosen entry methods during the creation of your contest.
Enter the URL of your YouTube channel e.g. https://youtube.com/RewardsFuel.
Click verify channel.
Add entry points.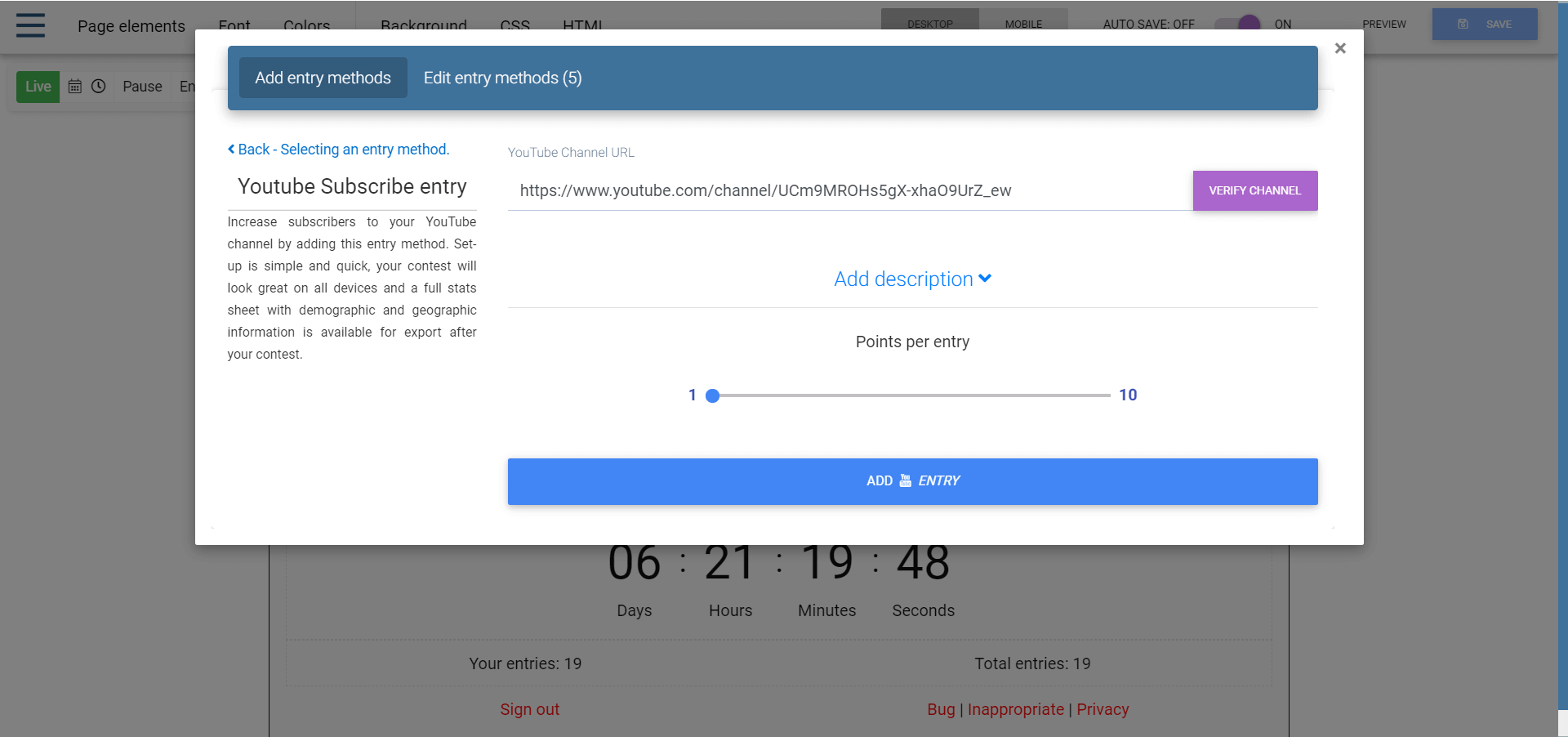 What creating a youtube contest looks like.

YouTube Subscribe entry FAQs
Are there any other YouTube related entry methods?
Yes, we also have watch a YouTube video as an entry method so you will get more views on your videos.
Is this better than buying YouTube subscribers?
Absolutely, when you buy subscribers most likely you are not getting real interest in your channel. When you add incentive to subscribing real people have a choice to follow you.
What if they are subscribers already?
We will count your existing subscribers as entries for you.  Once they click on the enter button and visit your YouTube channel they are entered so existing subscribers don't miss out.
How do you include official rules youtube contest?
We provide you with a rules generator so that you can cover yourself on your contest.  You can also add your own terms and conditions if you like.
How do you do a random contest drawing on youtube?
Use our winner picker, we have lots of options like drawing daily, weekly and end of contest winners.  You can award digital and physical prizes.  To learn more about our digital prizes click here.
Questions, comments, suggestions or interested in collaborations?  Please email us at  info@rewardsFuel.com.
Youtube contest related posts