MailChimp 'List Keeper Entry' gives you a great new option to add incentive and keep subscribers on your newsletter. Most people focus only on growing their lists, however, we think it's important to focus on both newsletter growth and newsletter retention, which is why we created 'MailChimp List Keeper entry'.  This new feature automatically enters everyone on your Mailchimp newsletter into your contest.
"Now you can say, everyone on our newsletter list is entered to win our contest- Rewards Fuel will keep track of all your contestants for you."
An example of a contest. Modify entry methods, images, fonts, colours, gifs, videos and more. Check out out more demos.
How to set-up MailChimp List Keeper: Keep Subscribers on Your MailChimp Newsletter

Log in to your Rewards Fuel account – if you don't have one yet, sign-up and choose our Promoter Pro Package.
Connect your MailChimp newsletter account to Rewards Fuel and choose the lists you want to add incentive for people to be on. Rewards Fuel will scan through your options and automatically enter your subscribers into your contest for you. (Follow the instructions (till 1:40) in the video below.)
Next, you'll begin creating your contest, you'll be asked to name your giveaway, choose a start and end date, create a prize etc.
Choose your entry methods including  'List Keeper Entry'.
Add more entry methods: You have over 30 different entry methods to choose from, we also suggest adding 'viral share entry' which will help to organically promote your contest.
What it will look like for your contestants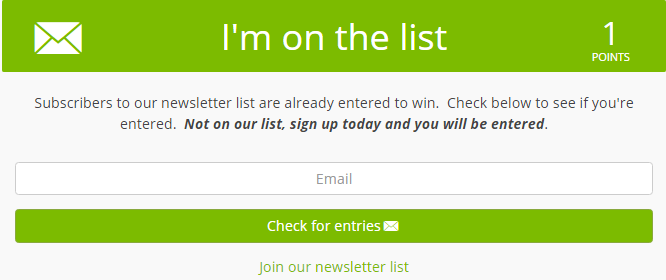 Plan needed for to use List Keeper entry
List Keeper entry is available on the Promoter Pro plan.
Question or comments about MailChimp 'List Keeper'?  Shoot us an email at [email protected], we can help you create your first contest free of charge.
Additional Contest TIPS:
List Keeper entry FAQs
How are entries counted?
When your contest starts we import your mailing list(s) you specify and give them entry points. We also setup a webhook (tech talk for notification) so that when new people sign up for your list they are entered automatically as well.
Why offer this type of entry?
Getting new subscribers is rad, but keeping them is just as important. Newsletter lists often lose members, this is a form of motivation for staying on your list.
Do I need a MailChimp account to make this work?
Yes, you need a MailChimp account with active list(s). You also need to authenticate Rewards Fuel to connect with your mailing list.
Will this help me get new subscribers?
Yes, you can offer the incentive to win your prize for signing up for you list. We get automatic notifications directly from MailChimp when someone new signs up for your list.
Are you a trusted partner of MailChimp?
You bet, we've built a plugin that is featured with MailChimp https://mailchimp.com/integrations/rewards-fuel/