Now you can say "Everyone on our list is entered to win…"
Mailchimp List Keeper Entry gives you a great new way to add incentive for your subscribers.
Most people focus on growing their lists. However, we think it's important to focus on both newsletter growth and newsletter retention. With Mailchimp List Keeper Entry you have powerful tool to keep people on your newsletter lists.
Simply connect your MailChimp account and choose the lists you want to add incentive for people to be on. We will read your lists and automatically enter them into your contest for you.
You can even customize the following:
How we calculate points (More points awarded the longer you are on the list vs. a static number of points)
Choose to notify subscribers (or not) via an email that includes a link back to the contest where they can enter in other ways.
The ability to include a link to join your list, if they are not already on it. New subscribers will automatically be added to your contest for you.
For contestants it will look like this: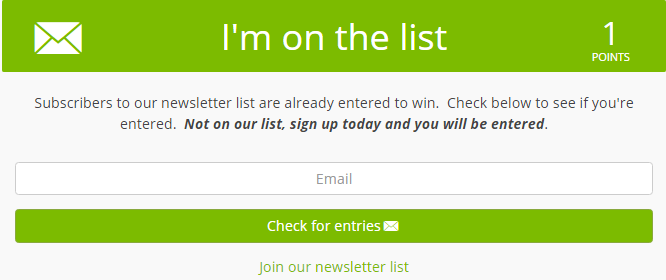 This is the perfect way to both grow your list and reward existing subscribers.
Want to see this in action?  Check out the demo below!
Contest powered by Rewards Fuel