Mailchimp 'List Keeper Entry' gives you a great new option to add incentive and keep subscribers on your newsletter. Most people focus only on growing their lists, however, we think it's important to focus on both newsletter growth and newsletter retention, which is why created 'MailChimp List Keeper entry'.  This new feature automatically enters everyone on your Mailchimp newsletter into your contest.
"Now you can say, everyone on our newsletter list is entered to win our contest"
Simply connect your MailChimp newsletter account to Rewards Fuel and choose the lists you want to add incentive for people to be on. Rewards Fuel will scan through your options and automatically enter your subscribers into your contest for you.
How to set-up MailChimp List Keeper:
Modify your Features:
For contestants it will look like this: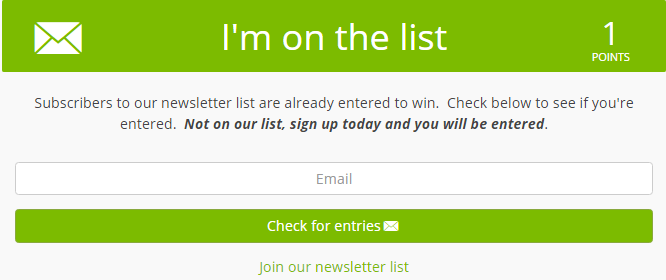 Style it: Get creative with your contest by changing fonts, colours, images, videos gifs etc. Try a demo.
Question or comments about MailChimp 'List Keeper'? Shoot us an email at [email protected]
Contest TIPS: