The photo-sharing app recently announced they now have over 1 billion monthly users, with more than 70 million photos and videos being uploaded each day.
Instagram is the fastest growing social network. Instgram's growth surpasses Pinterest, LinkedIn, Twitter, and even Facebook, that's why we've made it easy for you to get more Instagram followers fast with an Instagram contest. Research from TailWind found accounts that hold Instagram contests grew their followers 70% faster.
Here's how to get more followers on Instagram.

Log in to your Rewards Fuel account and choose "create a contest". Don't have an account yet? Sign-up by choosing our Promoter Pro plan.
Describe your contest. You'll be prompted to add a description, start and end dates and pictures.
Add entry methods. We have over 30 different entry methods, so choose as many as you like including 'follow on Instagram'
The next screen will prompt you to copy and paste the URL from the Instagram account you want followed.
Add a description eg. Follow my Instagram to win (your prize)
Add some entry points – here's why.
Continue adding entry methods or move forward to adding more information about your prize.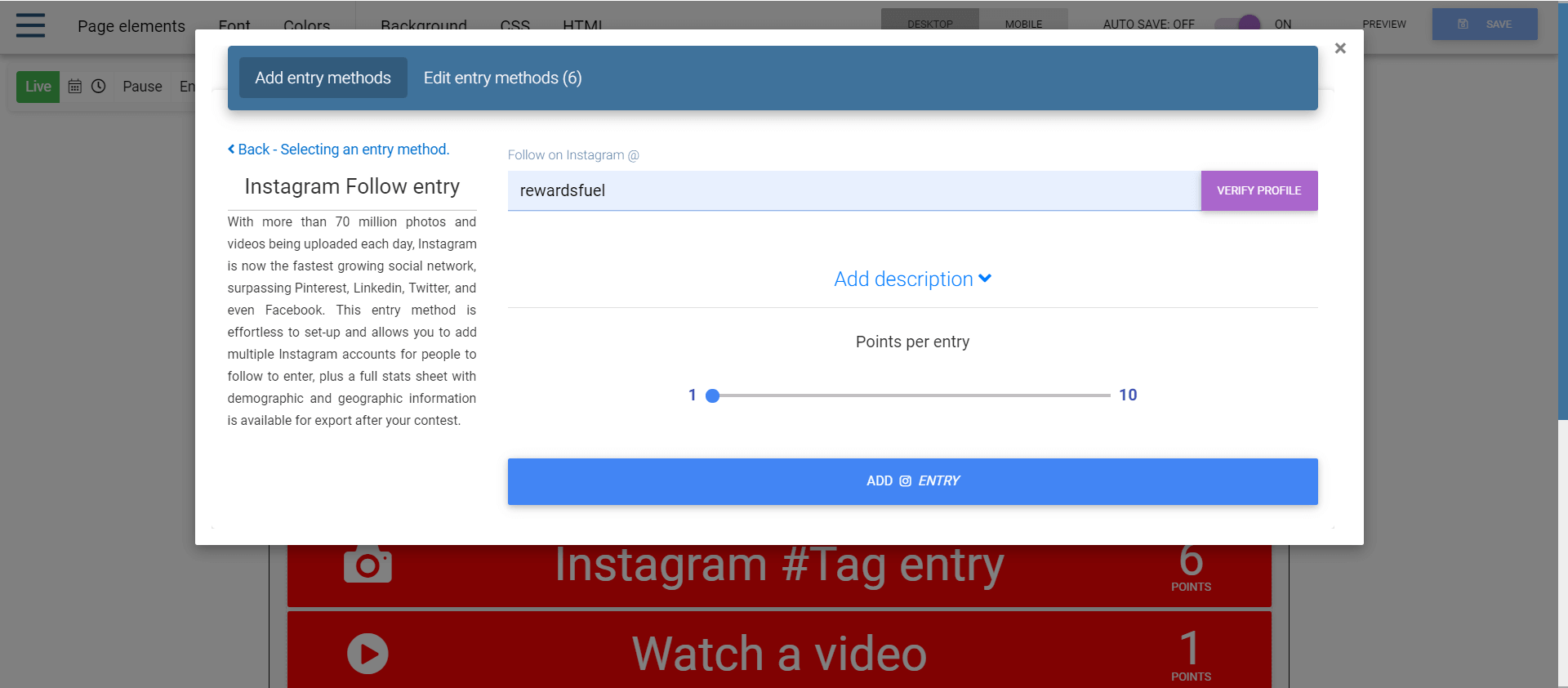 "Ask your followers to follow you on Instagram to win your contest and we'll keep track of all your contestants for you. "
What it will look like for your contestants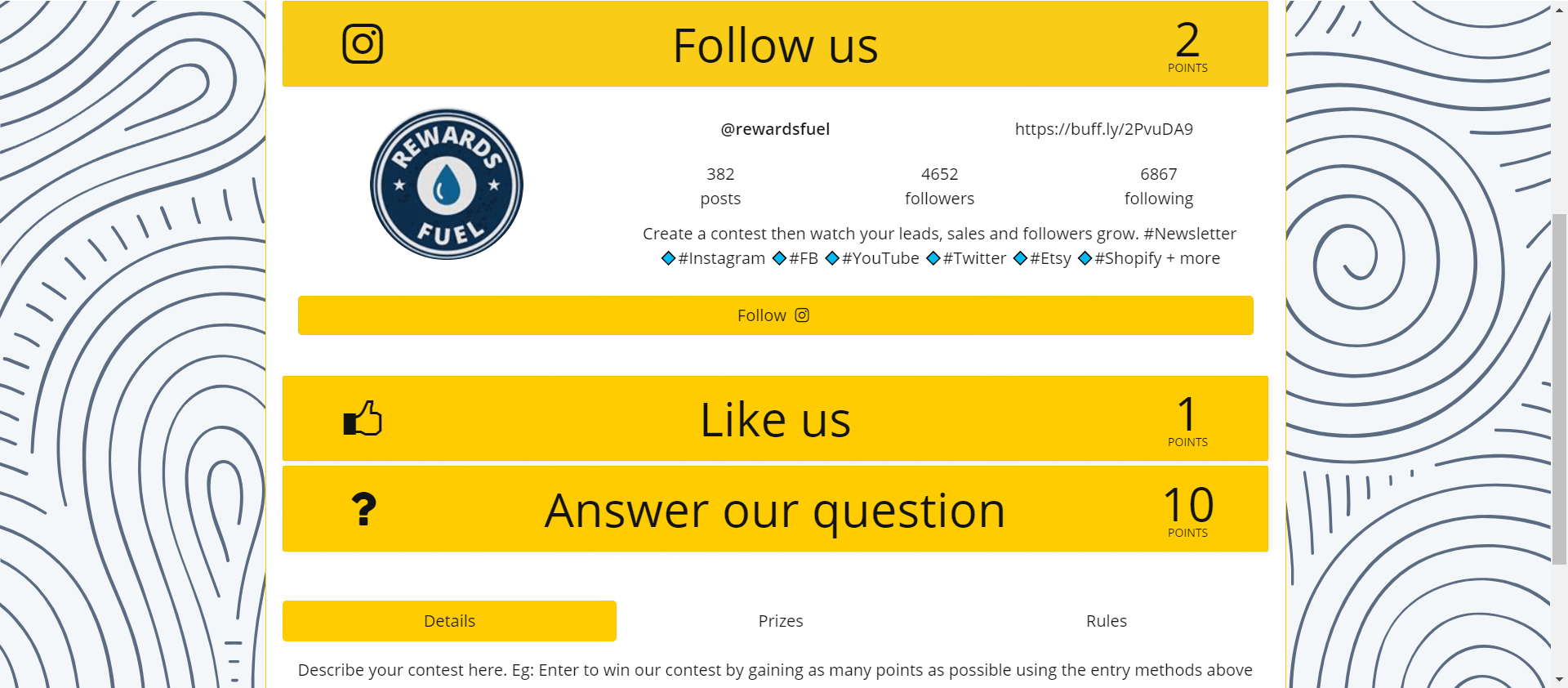 Want to make it look different?
Contests are totally customizable with the ability to add or remove elements and to easily change colors or fonts.
Facebook contests by Rewards Fuel
Popular Instagram contest strategies include asking followers to comment on a post to win, follow an Instagram account or tag a friend to enter. These are decent strategies to grow your account, but why leave all the action on one Instagram post? That's why it's beneficial to create your contest on your website. Then use your existing social media audience to promote it.
You'll be driving your traffic to your website and gathering valuable statistics.  Plus you have the option of increasing email subscriptions or building your Snapchat, YouTube, Twitter or Facebook account on the same contest.
If you're looking for engagement or user-generated content try our hashtag contests. Ask your followers to upload a picture or video on Instagram with a specific hashtag to be entered to win.  You can display all the entries on your website, and easily keep track of your contestants.
Our friends at EnterTalk Radio, Mission Engineering and Pitbull Audio gained over 9000 new followers on Instagram, YouTube, Facebook and their newseltters by using multiple entry methods with a recent contest.
If you have any questions or comments about how to gain Instagram followers fast with an Instagram contest, please shoot us an email at info@rewardsfuel.com.
Instagram Follow entry FAQs
How are entries counted?
Instagram has removed the ability for anyone to verify likes or follows therefore we can only verify that they have visited your profile. Contest holders get lots of followers this way but because of the limitations by Instagram its impossible for anyone to verify this.
Does Rewards Fuel offer other Instagram entry methods?
Yes, we have Instagram #tag entry. We use the Instagram API to validate those.
Is this a hack to grow Instagram followers?
We're not sure if hack is the right word, but its a proven way to grow quicker so lots of our customers think its great.
Is this like buying Instagram followers?
No, this is your chance to offer an incentive to real people. Buying Instagram followers doesn't help long term as these people will not engage with you.